LEAVE A LEGACY® Iowa
LEAVE A LEGACY® is a national campaign with a special effort here in Iowa to encourage people of all ages and backgrounds to make planned gifts from their estates to their favorite charitable organizations and to help connect people with the specific charitable organizations that will help them fulfill their legacy. The goal of LEAVE A LEGACY® Iowa is to increase charitable giving to improve the quality of life for all those in Iowa.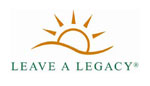 To learn more, please contact Leave a Legacy Iowa or visit their website.
Listen to this PSA about Leave A Legacy, by Bill Cobbs
Click here to visit the Leave A Legacy Iowa website.
Every day individuals in Iowa and our border communities benefit from the gifts that nonprofit charitable organizations give to our communities. In order for those organizations to thrive, groups of individuals, professionals, and charitable nonprofit organizations have banded together to provide a statewide network – LEAVE A LEGACY® Iowa. The purpose is a simple one – to encourage people to make gifts from their estate to charitable nonprofit organizations. Included in this site is a comprehensive guide for estate giving filled with education and resource material and a network to connect you with Partners from the nonprofit and professional advisor fields. Through our combined efforts, we are sure to make a difference in the lives that follow.
Click here to learn more About Us
LEAVE A LEGACY® is a public awareness campaign of the Iowa Planned Giving Councils and the Partnership for Philanthropic Planning.